Nexrad Doppler Radar -

---
Radar images/loops now can be seen on tablets and smart phones with Android or Apple IOS operating systems.
Storm Cell Attribute Table for Houston, Texas (KHGX) Radar
Retrieved: Mon, 05 Dec 2022 10:18:45 -0500; Data valid day: 05; Data valid time: 1507Z (Refresh)
Storm Ident
Az/Ran
TVS
Table
MESO
Table
POSH
POH
Max Size
VIL
Max dBZ
Height
Top
Fcst Mvmt
No Thunderstorms in Range of Radar Site
Algorithms produce this table. They may misrepresent observed conditions.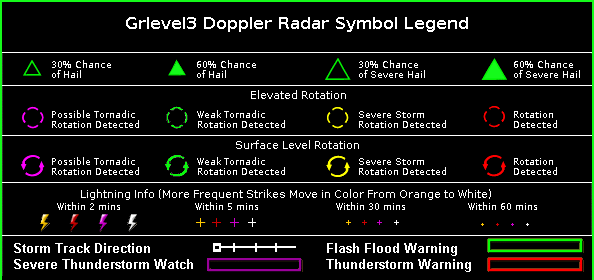 Show Location mode: Clicking the location button and placing your mouse over the radar display will indicate lat/long of the mouseover location. To see how far a shower or storm are from your location, you could, for instance, zoom the map, place the cursor over your approximate location, then press/hold the Shift key while dragging the mouse (left button down) to the location of the cell. This will display the bearing To the storm and distance.
Zooming images: By default, zoom mode is turned on. To zoom a radar image, simply place cursor over the area that you wish to zoom on and left click the mouse. To un-zoom, hold CTRL key and left click mouse. Panning around images can be done by holding down left mouse button and moving the image.