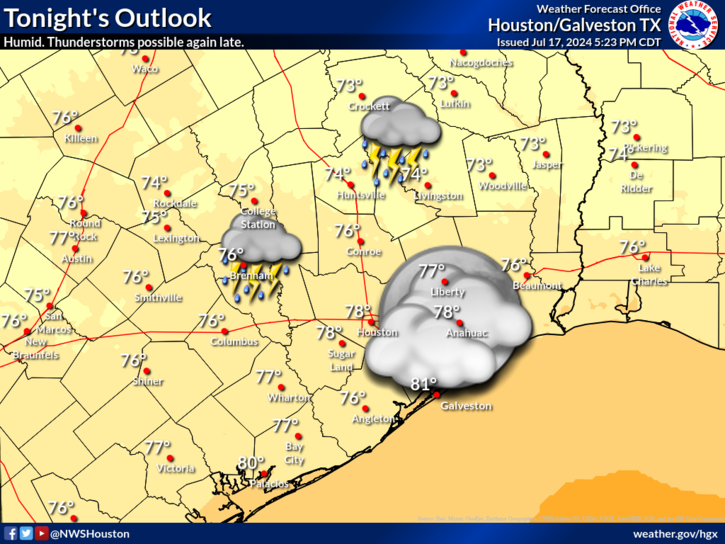 Today's Forecast
Tonight


Severe
T-Storms
then Patchy
Fog

Lo

62 °F

Showers and thunderstorms likely, mainly before 9pm. Some of the storms could be severe. Patchy fog after midnight. Otherwise, mostly cloudy, with a low around 62. Southeast wind around 5 mph becoming southwest after midnight. Chance of precipitation is 60%. New precipitation amounts between a tenth and quarter of an inch, except higher amounts possible in thunderstorms.
Saturday


Patchy Fog
then Partly
Sunny

Hi

79 °F

Patchy fog before 9am. Otherwise, cloudy, then gradually becoming mostly sunny, with a high near 79. Southwest wind 5 to 10 mph.
Click for 5 day NWS extended forecast...
Current Conditions
Stopped raining\Night time/Stopped raining
MEASURE
CURRENT
MAX/MIN
RATE / NOTES
Temperature

66.5°F

81.9°F

at 1:44 PM


58.1°F

at 7:28 AM

-0.9 °F

/hr
Humidity

97

%
100% at 2:02 AM
63% at 1:05 PM

+2% /hr

Pressure

29.70 in.

29.832 in.

at 9:29 AM


29.642 in.

at 6:26 PM

+0.047in./hr

/hr


Rising

Wind

3.0 mph

NNE

Last hour:

9.0 mph N


Max day:

19.6 mph

SSE

Light Breeze

Rain

last: 1/20/2017 at 6:35 PM

0.53 in.

0 day(s) without rain
Month Rain:

2.64 in.

0.32

/hr
0.53 in. /3 hr
Air Quality

Current value:

64

0-50 Good, 51-100 Moderate, 101-150 Unhealthy for Sensitive Groups
151-200 Unhealthy, 201-300 Very Unhealthy, 301-500 Hazardous


Heat Index:


66.5°F °F

Dew Point:


65.6°F

Wet Bulb:


65.9 °F

Cloud Height:


201 ft