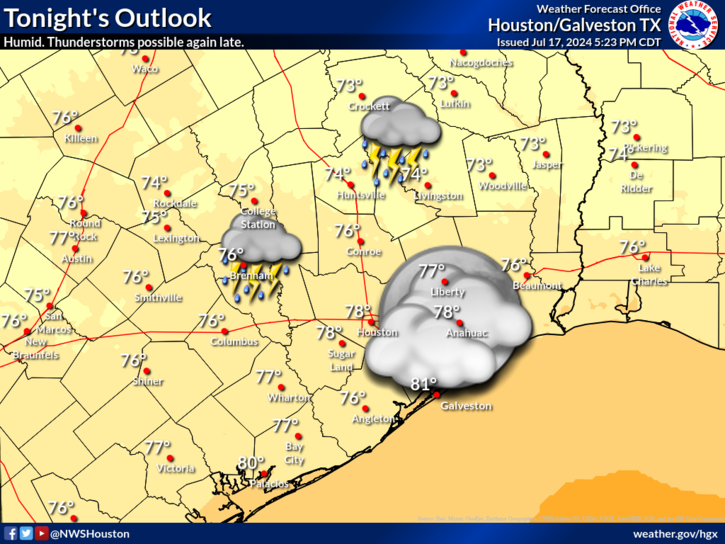 Today's Forecast
Overnight


Slight Chance
Showers

Lo

79 °F

A 20 percent chance of showers. Partly cloudy, with a low around 79. Southwest wind around 5 mph.
Monday


Chance
Showers

Hi

94 °F

A 30 percent chance of showers, mainly before 3pm. Sunny through mid morning, then becoming mostly cloudy, with a high near 94. Heat index values as high as 105. Southwest wind 5 to 15 mph.
Click for 5 day NWS extended forecast...
Current Conditions
Humid\Night time/Humid
MEASURE
CURRENT
MAX/MIN
RATE / NOTES
Temperature

78.7°F

78.7°F

at 3:02 AM


77.5°F

at 12:44 AM

+0.4 °F

/hr
Humidity

92

%
92% at 12:00 AM
91% at 12:00 AM

0% /hr

Pressure

29.82 in.

29.832 in.

at 12:53 AM


29.817 in.

at 2:33 AM

-0.006in./hr

/hr


Steady

Wind

0.0 mph

N

Last hour:

0.0 mph N


Max day:

0.0 mph

N

Calm

Rain

last: 8/25/2019 at 4:19 PM

0.00 in.

0 day(s) without rain
Month Rain:

6.95 in.

0.00

/hr
0.00 in. /3 hr
Air Quality

Current value:

45

0-50 Good, 51-100 Moderate, 101-150 Unhealthy for Sensitive Groups
151-200 Unhealthy, 201-300 Very Unhealthy, 301-500 Hazardous


Heat Index:


82.3°F °F

Dew Point:


76.2°F

Wet Bulb:


76.9 °F

Cloud Height:


577 ft