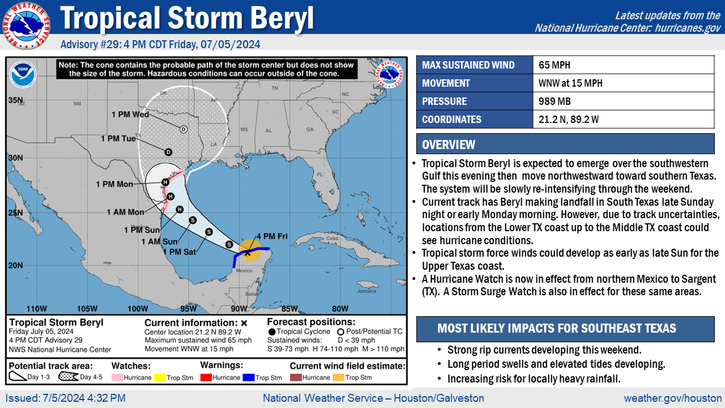 Today's Forecast
Tonight


Slight Chance
Showers and
Areas Dense
Fog

Lo

65 °F

A 20 percent chance of showers after midnight. Areas of dense fog. Otherwise, cloudy, with a low around 65. South wind around 10 mph.
Saturday


T-storms then
Partly Sunny


Hi

74 °F

Showers likely before 9am, then showers and thunderstorms between 9am and noon. High near 74. South wind 10 to 15 mph becoming west in the afternoon. Winds could gust as high as 20 mph. Chance of precipitation is 80%. New precipitation amounts between a tenth and quarter of an inch, except higher amounts possible in thunderstorms.
Click for 5 day NWS extended forecast...
Current Conditions
Dry\Night time/Dry
MEASURE
CURRENT
MAX/MIN
RATE / NOTES
Temperature

70.1°F

76.6°F

at 2:46 PM


51.6°F

at 4:27 AM

0.0 °F

/hr
Humidity

95

%
97% at 9:29 AM
84% at 1:21 PM

+1% /hr

Pressure

29.88 in.

29.965 in.

at 8:37 AM


29.839 in.

at 4:44 PM

+0.001in./hr

/hr


Steady

Wind

0.0 mph

N

Last hour:

0.0 mph N


Max day:

18.4 mph

N

Calm

Rain

last: 2/22/2019 at 6:18 AM

0.01 in.

0 day(s) without rain
Month Rain:

1.24 in.

0.00

/hr
0.00 in. /3 hr
Air Quality

Current value:

49

0-50 Good, 51-100 Moderate, 101-150 Unhealthy for Sensitive Groups
151-200 Unhealthy, 201-300 Very Unhealthy, 301-500 Hazardous


Heat Index:


64.7°F °F

Dew Point:


68.6°F

Wet Bulb:


69.1 °F

Cloud Height:


343 ft