Station Hardware

---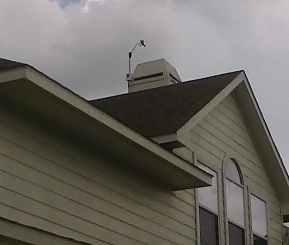 The weather station is a Davis Instruments Vantage Pro 6152c (wireless) unit. The exterior sensors are separated to provide maximum reliability of data collection. The anemometer unit is mounted 3 feet above the peak of our 2-story roof top at an approximate height of 32' above ground level in keeping with sensor recommendations. (Photo at left) Data is transmitted to the receiver unit via a separate wireless anemometer transmitter
The main sensing unit (Photo at right) measures rainfall, barometric pressure, temperature and humidity and also transmits data to the main sensing unit via wireless signal. The exterior sensor unit is located on our back yard using 1 1/2" diameter wooden pole at an optimal height for rain collection of 5' above ground level. Unfortunately, a really "Great" sensor location was not possible due to the nearby pool.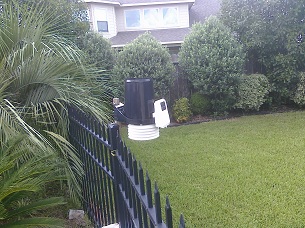 About League City, Texas
Located in southeastern Texas, League City is 25 miles north of Galveston and 20 miles south of Houston, the fourth-largest city in the United States. It is located on the south shore of 1,750-acre Clear Lake, directly across from NASA's Johnson Space Center.
Encompassing 55 square miles, League City has been characterized as a dynamic, ever-expanding community. The city has experienced a five- to six-percent annual residential growth rate since the 1980s, with a present-day population estimated at 58,546. League City is the largest city in Galveston County. With a unique blend of high-tech aerospace and petrochemical industry base, upscale commercial, retail and boating facilities, and a sought-after quality of life, the region continues to be a stalwart of Galveston County's regional economic growth.
League City is alive with opportunity, optimism and energy. The area is home to the third-largest concentration of pleasure boats in the United States, and features a quaint tree-lined historic commercial district. League City has been listed as one of America's Top Rated Smaller Cities by Grey House Publications. The publication contains 100 top-rated smaller cities in America with populations of 25,000 to 99,999. Texas cities include Coppell, Flower Mound, Rowlett (Dallas Ft. Worth suburbs), Round Rock (Austin), and League City. The publication market includes general reference libraries, relocation firms, and research consultants. Ratings are based on unemployment levels, crime rate, growth history, and household income.
Key demographic measures attest to the economic strength of the region. The area's population reflects comparable or superior characteristics for the measures of population growth, educational attainment, and household income when compared with major U.S. suburban and metropolitan areas.
Although part of the Houston economy, League City distinguishes itself within the region demographically. Its employment base, income level and education profiles are well above the average for the Houston metro area. In recent years, the region led the economic recovery, not so much by size as by rate of growth and optimism.
Ninety percent of League City residents rate the quality of life as good or excellent. The combination of things that, together, create a desirable lifestyle for a community are varied, and yet, most citizens speak to the city's quality of life as if it were commonly identifiable. These same residents cite the suburban lifestyle, economic opportunities, schools, and other recreational and cultural amenities as reasons for their strong approval.
League City was formally incorporated as a Texas Home Rule City in 1962. League City has two county parks included in the Great Texas Birding Trail, the county's top library, an amateur recreational sports facility, a multi-use sportsplex, major marinas, championship golf courses, a resort hotel, as well as lots of room for growth.
About This Website
This site is a template design by CarterLake.org. Special thanks go to Kevin Reed at TNET Weather. AJAX conditions display from Saratoga-Weather.org.
Template is originally based on Designs by Haran.
This template is XHTML 1.0 compliant. Validate the XHTML and CSS of this page.